Air transport
Bulgaria has 4 major international airports, located in the four biggest cities in the country – Sofia, Plovdiv, Varna and Burgas.
Sofia Airport
– Located in the capital, Sofia Airport is the main International airport in Bulgaria. In 2015 the total amount of passengers reached 4 million which made Sofia airport one of the busiest in the region. The airport has two terminals. The main airlines operating on the airport are Bulgaria Air, Wizz Air, Ryan Air and Lufthansa.
Terminal 2 was recently renovated and it provides many services like shops, restaurants and places to grab something to eat during your layovers. The airport is not very far from the city center, but have in mind that it might take some time to get there due to heavy traffic, especially during the holidays or working days.
How to get there? - You can reach the airport using different means of transport, such as the Metro (Line 1 of Sofia Metro reaches Terminal 2), bus transport (Lines 84, 184 and 384 of Sofia Public transport connects the airport and the city), car (if you rent a car, there are three main road connections to Sofia, Trakia and Hemus motorways). You can also take a taxi right in front of the airport terminals, but be careful with the fares they offer. Have in mind that the normal tariff for a taxi in Sofia is approx. 0.80 BGN/km.
Plovdiv Airport
– It is also referred as Plovdiv Krumovo Airport. It serves mainly the winter resorts of Pamporovo, Borovets and Bansko, therefore most flights to and from Plovdiv are charter flights and are operated during the winter season. The main destinations from Plovdiv Airport are to and from the U.K. and Russia, even though there are some charter flights to Italy, Belgium and Germany, which are mainly served by Ryan Air.
How to get there? - Line 2 of Plovdiv's Public transport system can take you there, you can also take a taxi, but bear in mind that the airport is 12 kilometers away from the city.
Varna Airport
– The airport is located 10 kilometers from the city center. Currently it has domestic and international flights to about 71 destinations in 29 countries. There are daily flights from Varna to Sofia, operated by Bulgaria Air and Wizz Air. In this regards, lately many locals prefer to take the plane to Sofia, since the flight takes no more than 50 minutes.
The airport serves Varna and Golden Sands during the summer season between May and September. The brand new servicing terminal is very cozy and provides everything needed for a pleasant stay before you board your plane.
The main airlines who operate scheduled flights from Varna are Bulgaria Air, Wizz Air, Thomas Cook airlines Scandinavia and SunExpress Deutchland.
How to get there? – Line 409 from Varma's Public transport system makes connection between the airport, Varna malls, the city center and the Golden Sands resort, which makes it very convenient for tourists. You can also consider taking a taxi, but be careful with the taxi fares.
Burgas Airport
– Situated near Burgas and Sunny beach, Burgas airport is the second largest airport in Bulgaria. It serves the city and the seaside resorts in the southern Bulgarian seaside during the busy summer season. In 2016 it handled over 2 million passengers. Terminal 2 has been recently renovated and includes a shopping area, food and beverages outlets and other services.
How to get there? - Line 15 of Burgas Public transport connects Burgas bus station "South" and the airport, which makes it easy to get there. You might also consider taking a taxi.
Coach.
Bulgaria has a very well-developed road infrastructure which connects the major cities in the country. That makes the road transport the main way of long-distance travelling. The costs are not that high and the services are good when it comes to travelling by coach. Every major city has at least two coach stations. Smaller towns and even villages also have coach connections.
Even though foreign languages are not widely spoken in smaller towns, almost every private coach company, such as Union-Ivkoni, Biomet and Etap-Grup would provide service in English or Russian. There are also regular coach services between the big cities operated on a daily basis, and tickets can be booked online. Between the smaller towns there are buses, called shared-taxis (or in Bulgarian marshrutka).
Have in mind that not every bus station in Bulgaria has its own website and not always there would be someone who could speak a foreign language.
Public transport and Metro
The public transportation is the main way of getting from one point to the other in the cities of Bulgaria. It is often used by students and pensioners, since it's very cheap and convenient – the average ticket price is 1 BGN. The delays in the schedule are not that frequent, only when the weather is bad (snowy, rainy). Also, most of the buses are equipped with air conditioners, which makes them even more convenient in the hot summers or the windy winters. Bear in mind that in most of the cities, the tickets are bought from controllers, who rarely speak any foreign languages. Only in Sofia, you can get your ticket from the bus driver or from a vending machine. Also, in Sofia, Varna and Burgas you can buy your ticket with TICKEY, an app for your smart device which makes everything much easier. All you need is a smartphone to download the free app and add your card information.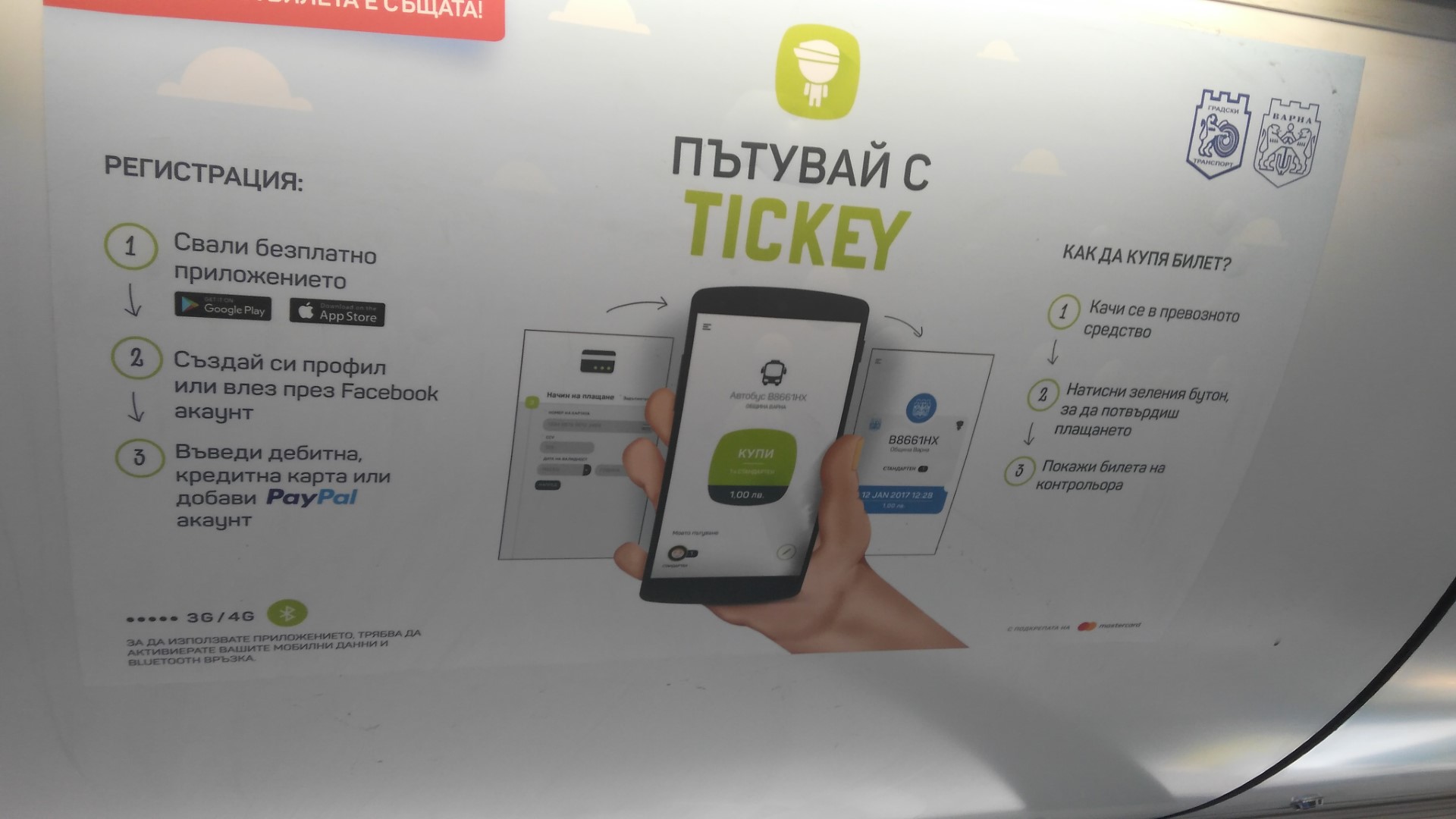 Be careful with the luggage you are carrying with you. If you carry more than one big bag you might be asked to pay an extra ticked or get a fine, which is not noted anywhere visible on the bus. The fine is different in each city, but it's approx. 20 BGN.

It is pretty convenient that the public transportation in the major cities has a website where you can check the schedules of buses in real time:

Sofia Public Transport




Varna Public Transport




Plovdiv Public Transport

For now, Sofia is the only city in Bulgaria with

Metro services

. The total number of stations are 35 and the daily ridership is around 350,000 people. It currently has two lines – 1 and 2, which intersect at Serdika Station. Using the Metro you can easily travel through the whole city avoiding the traffic.

Even though the underground is primarily used by local people, it is very convenient for foreigners as well, since there are signs in English everywhere. You can buy your ticked from a cashier or from a vending machine – the fare is 1.60 BGN. The Metro also connects the city center with the airport. Also, have in mind that if you carry a big bag with you, you might have to buy an extra ticket. If not, the fine might be around 20 BGN.

Some of the metro stations in Sofia have been used in a couple of Hollywood movies, because of their fresh and modern design.

Railway transport

Trains are one of the most popular means of long and short-distance travel in Bulgaria. Despite being used mainly by students, railway transport is still considered as one of the most convenient in the country. There is only one railway transport provider – Bulgarian State Railways (or in Bulgarian BDZ).

The trains are not quite new and modern, but most of them are renovated and clean. All of the sleeping coaches are new and cozy. Nevertheless, the ticket prices are remotely lower, compared to other European countries. The approximate price of a train ticket from Sofia to Varna is 10 EUR. There are also daily international trains to Serbia, Turkey, Hungary, Romania and Greece.

The Bulgarian State Railways website

is entirely in English, which makes it very convenient for foreigners.

The delays, however, are quite common due to bad weather or problems with the machines.

Water transport

Тhe water transportation in Bulgaria is not quite popular when it comes to travelling. However, the country has 8 major seaports and 8 river ports. The biggest ports on the Black Sea coast are in Varna and Burgas. Many of the towns and seaside resorts on sea coast have yacht ports. You can visit one in Balchik, Byala, Golden Sands, Nesebar, Sozopol or Sveti Vlas.

Despite not being a popular way of transportation, there are numerous small boat and yacht services you can try use at the seaside. During the summer season you can go from Balchik to Albena by boat, or from Nessebar to Sunny Beach by yacht. Tourists love this kind of entertainment during the high season.

On the Dunabe River, the biggest ports are in Ruse, Silistra and Vidin where you can try a river cruise on a small boat.

Taxi

Taxi services are quite popular in Bulgaria. In general, taxis in Bulgaria are cheap and reliable, but of course it depends on the provider. Usually you can find them almost everywhere in the big cities and smaller towns. There are some taxi stands, called "stoyanki" where you can take a taxi, or you can just call one. In some places, it is common to be asked over the phone where you would be going, so don't get surprised if that happens – sometimes the drivers don't go in every neighborhood. Actually, since most of the smaller towns don't have well-developed public transport (specific schedules), taxis would be a better choice. Also, in some places there are taxi drivers who would drive you at the price of a bus ticket (depends if it's inside the cities as public transport or between towns as coaches). There are usually illegal services, but sometimes are more convenient when you want to get somewhere cheaper and faster.

To avoid any illegal taxis, it's better to call one on the phone than getting it in front of the Airport or the Railway station. For every particular town there are certain taxi providers, so it's better to check them up online before calling one. Have in mind that some taxi drivers use dishonest methods of charging you, so if you are getting in a taxi straight from the airport, check the prices before you enter the car. The prices are listed in a small white paper on the left side of the back door window.

The taxi fares in the biggest cities in Bulgaria:

City Starting tariff Tariff per km waiting tariff per hour

For ordering a taxi, you can also use the Taxi-bulgaria app for your smart device. All you need to do is to choose the town you are, where are going to, if you have luggage with you and that's it. You can also track your car online.
Also, most of the taxi drivers speak foreign languages, especially those working in the summer resorts, so don't worry about that. Some of them even speak more than 1 foreign language.

Rent a car
Car rental is not that popular in Bulgaria, despite being one of the first choices for foreigners when they arrive at the airport. You can rent a car at every Bulgarian airport or do it over the phone or online. There are various websites and rental providers where you can check the prices and conditions. Usually the company staff are very polite and people are happy with the services. The prices are also very low compared to some other European countries (of course, prices are higher in big cities and near the seaside during the high season).
Hitchhiking
Bulgaria is quite a good place for hitchhiking. Some consider this as heritage from the past century, when having a car was not that common and people were hitchhiking just to get somewhere. Despite this, it's more reliable to hitchhike if you are going from East to West or vice versa. That's because the main roads connect the two major seaside cities, Varna and Burgas with the capital – Sofia. Also, Bulgaria is part of the international road corridor from Istanbul to West Europe, which goes through the southern part of the country along the Trakia Mortoway. This also helps the hitchhikers, since there are a lot of truck drivers who stop just to have some company during their long rides. Have in mind that during the summer season, when the temperature reaches 35 C degrees, the trucks are not allowed, so it's better to get on the road with your thumbs up early in the morning.
It is also common to hitchhike in the mountain areas of Bulgaria, like Rhodope Mountains where there are not a lot of cars passing by, but the ones that do usually stop. That's because most people know each other or they just know it's hard to get a ride when you are in the middle of nowhere.
Still, be very careful when you hitchhike – as any other country, this is a very risky activity and you never know in whose car you might end up. It's preferable to do it during the day and if you are not 100% sure, just "open up your purse" as we Bulgarians say and buy a bus ticket.